Tectus Concealed Hinge Simonswerk Hinge System
TECTUS® 
THE ADJUSTABLE CONCEALED DOOR HINGE
– For clean, flush architectural designs
– Load capacities of up to 300 kg (661 lbs.)
– Flush and rabbeted flush doors
– For wood, steel and aluminum doors and frames
– Ability to open door full 180 degrees
– With maintenance free slide bearing technology

Tectus Concealed Hinge Simonswerk Hinge System
The TECTUS series of concealed hinges offers unsurpassed quality,
versatility, and depth. This series features an entire range for
architectural openings. The TECTUS hinge offers a "clean" look, which
has not been matched by any other manufacturer.
The adjustment feature provides a simple way to create a perfect
margin between the door and the frame. This enables the door to be
adjusted in three dimensions (horizontal, vertical and in/out) by simply
turning an Allen wrench. The refined visual appearance in combination
with its maintenance free
slide bearings distinguishes TECTUS from
all other concealed hinges.
The TECTUS A versions allow a door to visually disappear into a wall
with many different kinds of claddings such as mirrors, laminates, and
marble.
Simonswerk Hinge System
Modern and efficient buildings of today often require the ability
to control and operate doors remotely. This requires the transfer
of electrical power and data/information from door frames to door
panels. The TECTUS Energy series provides a sophisticated way to
fulfill the requirement of this technology when card readers, access
and door control systems, electrified locks, monitoring systems,
and multimedia components are used. The cable, with its 'ƒ wires,
is completely concealed behind the hinge arms in order to avoid
unauthorized tampering. The TECTUS Energy hinge is available in a
wide variety to accommodate different door weights and applications.
TECTUS®
THE ADJUSTABLE CONCEALED DOOR HINGE
For clean, flush architectural designs
and load capacities of up to 300 kg (661 lbs.)
For flush and rabbeted flush doors,
and For wood, steel and aluminum doors and frames
Ability to open door full 180 degrees
With maintenance free
slide bearing technology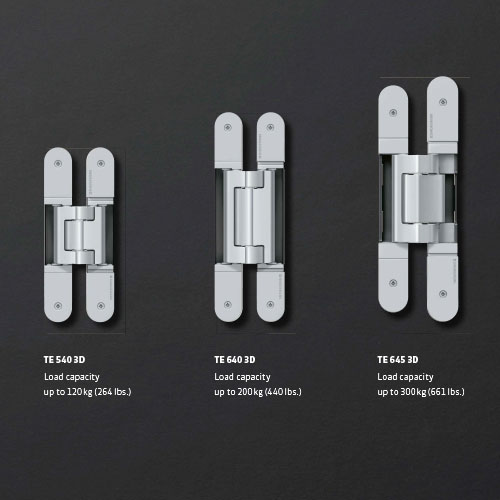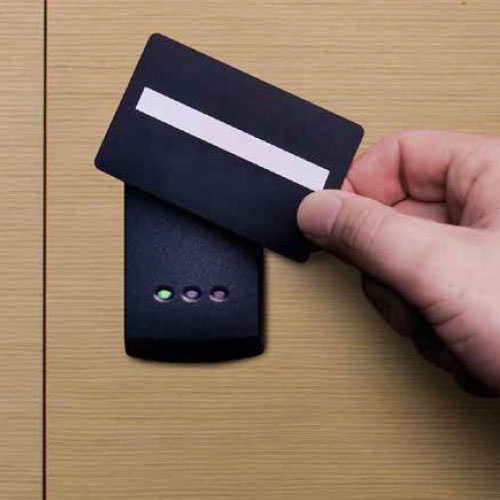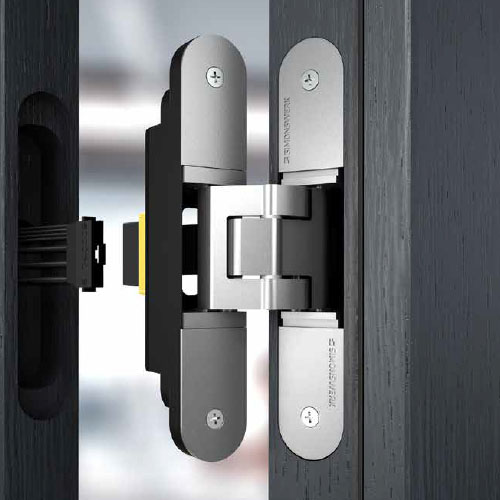 A FULL RANGE OF CONCEALED HINGES
SIMONSWERK
provides a comprehensive concealed hinge product line,
TECTUS, for a wide variety of applications. These applications include
residential and commercial doors as well as heavy fire doors and soundproof
doors.


The TECTUS series offers consistent characteristics throughout the entire
product line, such as the visual appearance, functionality and adjustability.
Durability is another key feature that the TECTUS series offers and
is therefore not limited to low traffic door applications. The ease of
installation and maintenance-free slide bearing technology distinguishes
this product line. TECTUS hinges are available in 'ƒ architectural finishes.
INTERIOR HARDWARE
Cabinet knobs and handles have changed greatly in the last ten years. Now, you can custom order an extensive array of various kinds of cabinet pulls for your kitchen cupboards, custom built-ins, and bathroom vanities.
Matching your large appliance handles or pantry doors pulls is becoming increasingly accepted. Our clients have integrated recessed flush pulls, wooden handles and crystal knobs to compliment their millwork styles.
DOOR HARDWARE
We at Canada Door Supply believe that consistency goes a long way when designing a home decoration. That is why we provide a huge selection of decorative Colombo hardware which will boost the style and look of your door. We have Colombo Hardware products that take account of entry sets, multipoint levers, door pulls, handles, knobs, latches, catches, hinges, bolts, flush pulls as well as door stops.
EXTERIOR HARDWARE
The exterior makes the first impression on your visitor. A doorknocker or front entry set is a simple way to add instant curb appeal. Our doorknocker is available in a variety of finishes, styles, and metals. If you are planning to sell your home shortly, do not underestimate the wow-factor that Colombo exterior hardware can make.
DOOR HARDWARE SELECTION
Colombo Hardware extensive collection come up after careful search among selective handles of the previous years. The handles we offer result of an extremely careful project assessment.
This is a new Colombo line of hardware which provides furniture handles with state of the art styles and design that add personality to any piece of furniture, products include lamps, trash cans, shelves, cups, holders, toilet brushes and many others.
WHY CHOOSE OUR DOOR HARDWARE
Colombo is one of a premier manufacturer in hardware. With Colombo, you get lots of customization than you would with other companies. We have exceptional styles of lever handles, rosettes, doorknobs; window handles available in various finishes that provides you a lot of flexibility with personalizing the decor of your home. We also have a wide array of Colombo kitchen cabinet hardware to keep the decor of your home consistent. Colombo Hardware is one of our popular brands of hardware products. We have a remarkable selection to complete the decor of your home.
Colombo Hardware has created a huge selection 
BATHROOM HARDWARE
Other home hardware in coordinating finishes.
We aim to bring interesting and well made Colombo hardware to every home. A lot of homeowners are discovering the fulfillment which comes from buying well-made hardware products. We aim to make it likely for every homeowner to use this higher expectation to door locks. We're striving to offer a broad, and interesting array of products which consumers can utilize as elements of decoration, not only as a way to latch your door.
We invite you to take a look at the wide array of Colombo Hardware on our site. Almost all of Colombo Hardware is made of solid brass for long-term quality. Clients can pick from a wide array and even combine finishes and designs on individual sets of locks. Do you have special needs, just call us.
Colombo Design Door Hardware Toronto products are assembled and delivered carefully. Due to the superiority of our locks as well as their customizable nature, our doorknob orders are pre-assembled at the time of your order.
OUR OFFICE
is located at 200 Edgeley Blvd Unit #25 Concord, ON L4K 3Y8, Canada. We offer an extensive array of Colombo Hardware products, and our sale specialists can help you in each step of the way. Please feel free to call us if you want to know more about Colombo Hardware items. Our staff is always available to help you with your orders, and we can also help you find the right items for you.

CANADA DOOR SUPPLY
A superb collection of Door Hardware, Interior Doors, and Exterior Doors to accent your Home.
Phone: 416-628-1297
Showroom Hours: Monday To Friday 10 am – 3 pm