Richelieu Concealed Steel Hinge – Model #203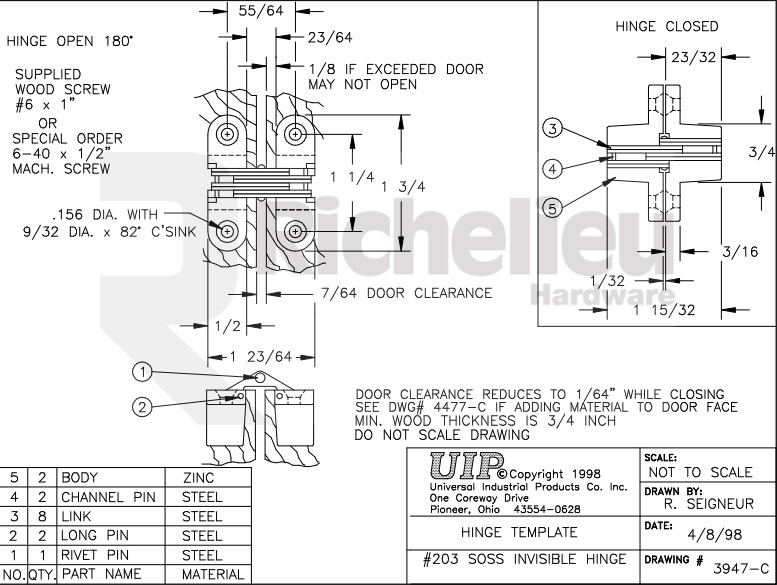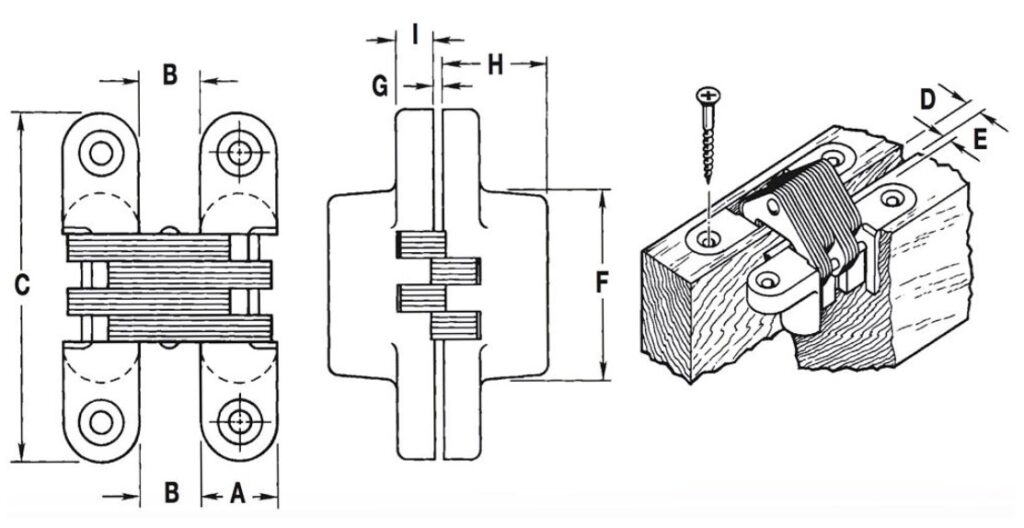 Description
DESCRIPTION
The hinge is invisible when closed.
Richelieu's concealed hinges offer superior appearance and durability with contemporary and functional style. They easily install and can be used for many applications on wood or metal doors to meet all your needs.

TECHNICAL SPECIFICATIONS
Product number
420203185
Minimum Door Thickness
3/4 in
Material
Steel
Type of Hinge
Wood or Metal
For Hinge #
203
Brand
Soss
Wood Screw Sizes
#6 x 1″ (3.5 mm x 25 mm)
Dimension A
1/2 in
Dimension B
23/64 in
Dimension C
1 3/4 in
Dimension D
7/64 in
Dimension E
1/8 in
Dimension F
3/4 in
Dimension G
1/32 in
Dimension H
23/32 in
Dimension I
3/16 in
Hinge Opening Angle
+180°

ADVANTAGES AND BENEFITS
Security: When closed, the SOSS concealed hinge cannot be seen or tampered with. When opened, the riveted hinge pin is non-removable.
Safety: The moving pivot point remains inside the hinge during movement until fully opened, eliminating an external pinch point on the back side of the door.
Strength: The installed hinge is firmly anchored in a deep, full mortise with screws to support the door and provide a rigid and secure installation.
Superior Construction: Concealed hinges are designed to ensure reliable operation for years. The standard hinges are made of high-strength steel and zinc alloy.
Smooth Operation: All hinges have been designed and developed to give smooth performance and reduce friction.
APPLICATION
The concealed hinges are used by designers, architects, and engineers to help solve design problems associated with today`s ultra modern materials. Our hinges are found in many applications where concealment, compact size, and smooth operation are essential. Concealed hinges can be found in various high-tech products including, computers, cash registers, copy machines, medical equipment, and office equipment.
Limited only by the imagination of the designer, SOSS concealed hinges are used in Cessna Bravo jets, custom furniture by experts in the cabinet and display industry and wherever invisibility and flexibility are of paramount importance. SOSS concealed hinges open a full 180° and operate with a single action. Ideally suited for mirrored doors, gates, wall panels, pass doors, storage cabinets, electronic and computer devices, wall units, hidden doors, pharmaceutical storage areas, courtrooms, and churches.
SOSS concealed hinges are used in restaurants, homes, and offices to create environments with clean lines.

Info
Contact