Richelieu Magnetic Handles with Front Pull – 89058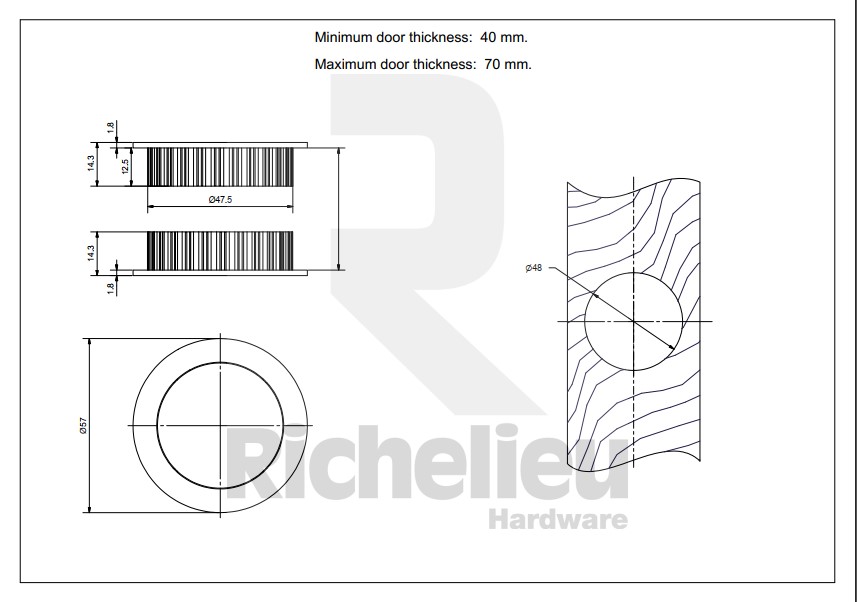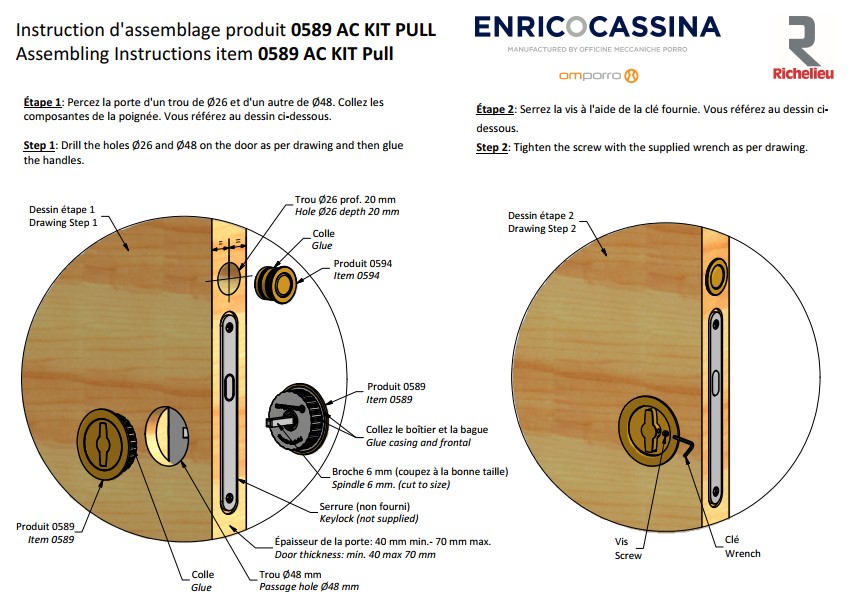 Description
DESCRIPTION
Round magnetic flush handles with front pull
Magnetic flush handles operate quietly and reliably over time. The internal magnets enable the central hole to return automatically to its rest position with a silent movement. These magnets replace springs that are more commonly used in these types of products, but tend to jam as they gradually become worn.
– Handgrip is machined on the inside and outside to provide greater inner curvature and better grip for fingers.
– Magnetic flush-handle patented in Italy (industrial invention patent application of 18/07/2010).
– Finishes are applied using a highly scratch- and UV-resistant coating procedure.
– ABS casing with cavities increases the bonding surface.
– Concealed pulls are perfectly recessed into the door and flush with the surface.
POLARISED NEODYMIUM MAGNETS
Neodymium magnets are top quality magnets with high coercive force that never lose their physical properties unlike others that use magnetized iron.
TECHNICAL SPECIFICATIONS
Product number
89058960EKIT185
Door Type
Wood
Usage
Pocket Door, Sliding Door
Color/Finish
Satin Nickel
Door Thickness
1 37/64 to 2 3/4 in
Manufacturing Material
Brass
Diameter
57 mm
Projection
1.8 mm
Fixing Technique
Flush
Function
Passage
Milling Diameter
48 mm
Milling Depth
12.5 mm
Plate Style
Round
ADVANTAGES AND BENEFITS
– Solid flush handles with "concealed grip" allow full continuity between the surface of the door and the handle.
– Noiseless rotations and movements – no need for lubricant.
– Neodymium magnet offers greater resistance over time compared to normal magnets.
APPLICATION
Living room, bedroom, kitchen and nautical furniture.
Kit includes 2 pull handles and 1 front round.
IMPORTANT INFORMATION
– Use on doors with standard drilling.
– Minimum door thickness: 26 mm

Info
Contact