Richelieu Magic Corner II Set for a Minimum Opening of 444 mm (17-1/2″)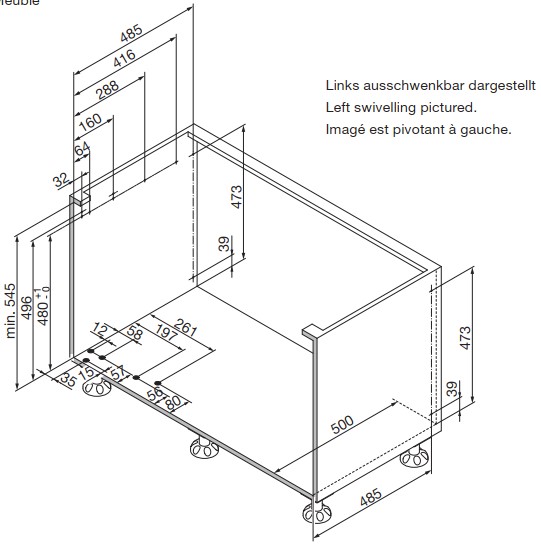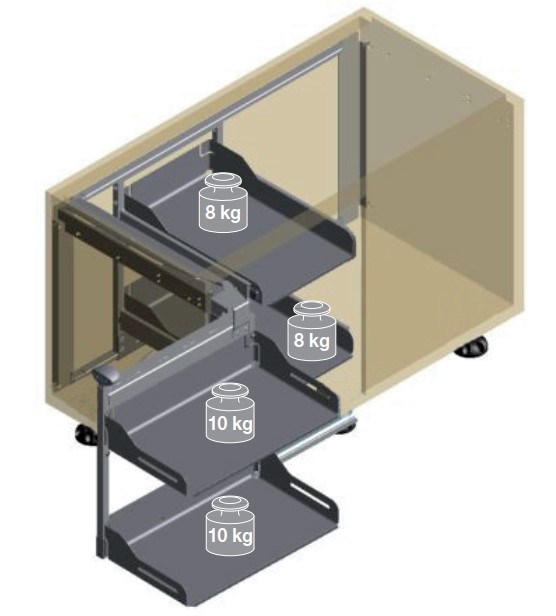 Description
DESCRIPTION
Mechanism designed to maximize available space in corner cabinets with hinged doors.
– Brand new sliding technology ensures that all components slide silently and effortlessly, even when the baskets are full.
– Opens manually.
– Front baskets pull out and swivel for easy viewing and access to the entire storage space. 
– Rear baskets slide out for easy access to all stored items.
– Depending on the configuration you choose, this system lets you make full use of over 80% of the storage space available.
– Features an ergonomic handle that can be adjusted in height.
– Laterally mounted deflection clips prevent the door from being damaged.
– An anti-slip covering on baskets prevents stored items from moving or falling when the system is operated.
TECHNICAL SPECIFICATIONS
Interior Dimensions Required – Depth 
Min. 500 mm 
Interior Dimensions Required – Height 
Min. 545 mm 
Capacity 
Front 10 kg (22 lb), Rear 8 kg (18 lb) 
Opening Width 
Min. 444 mm 
Material 
Steel 
Solutions 
Corner Cabinets 
Area of Activity 
Food Storage, Storage, Preparation
ADVANTAGES AND BENEFITS 
– Soft-motion slides for the rear baskets permit smooth closing 
– Rear baskets slide independently for the best access, letting you reach right to the back of the unit 
– Features elegant chrome rails 
– SoftStopp included in the frame for the front baskets 
– Baskets sold in sets of 4 
– Frame can be width-adjusted 
– Load capacity of front baskets: 10 kg (22 lb.) per basket 
– Load capacity of rear baskets: 8 kg (17 lb.) per basket 
IMPORTANT INFORMATION 
Please note that the first page of the installation instructions shows a drawing representing left opening; the same dimensions apply to right-opening mechanisms. 
Cabinet adjacent to opening side must not exceed 100 mm, or the mechanism will not work. Please see the technical drawing.
Info
Contact