Richelieu Flat Bar Door Handle – One Side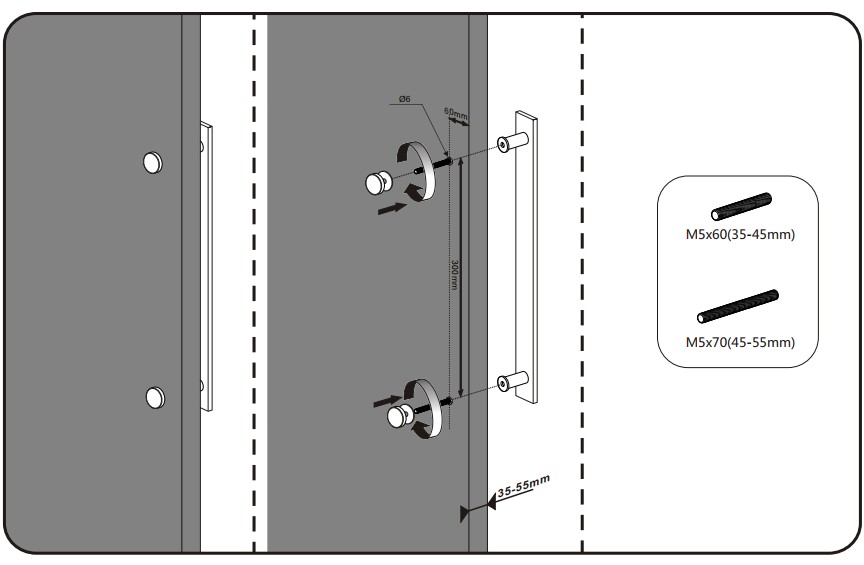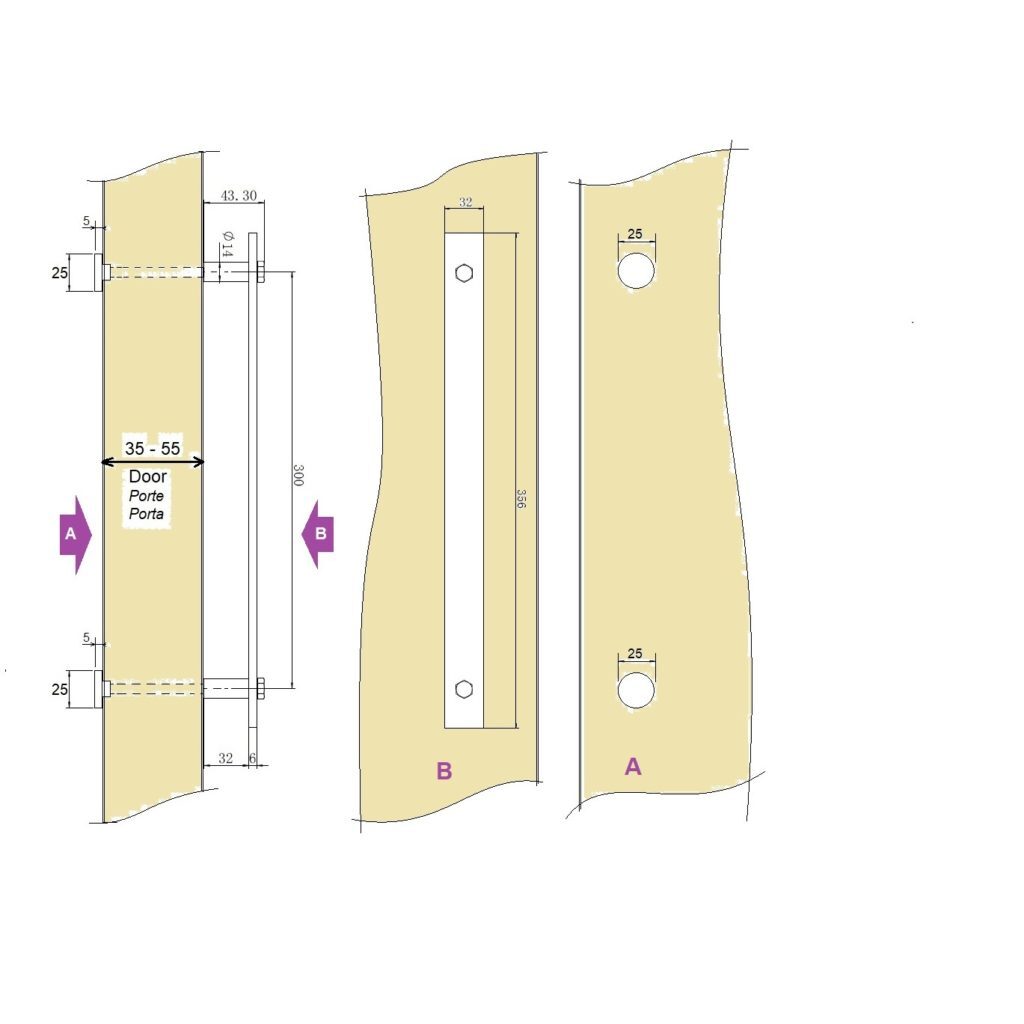 Description
DESCRIPTION
For swing and sliding doors
Flat Bar Door Handle for one side mounting with through bolt fasteners and cover caps for a wood door. Includes two sets of through bolt fasteners for various wood door thicknesses: 1 3/8 to 1 3/4 in (35 to 45 mm) and 1 3/4 to 2 1/8 in (45 to 55 mm). Decorative hex head on the through bolt fasteners for the door pull and caps for a secure and quick installation. Select from four different finishes that match our collection of Decorative Flat Bar Barn Door Sliding kits in satin brass, brushed stainless steel, matte black, and brushed oil-rubber bronze. See the Suggested Products listed below to explore a list of popular matching Decorative Barn Door Sliding kits and systems. The flat bar pull handle is secure and robust to grip the door to slide or swing open a small to large wood door. Ideal for both residential and commercial interior door applications at the home or office for sliding and swing doors.
TECHNICAL SPECIFICATIONS
Door Type
Wood
Door Thickness
35 to 55 mm
Length
356 mm
Center to Center Drilling (Spacing)
INCLUDED PRODUCT(S) 
– Flat bar handle of 14 in (356 mm) x 1 1/4 in (32 mm) and projection of 1 11/16 in (43.3 mm)
– 2 screws of 3/8 in (60 mm) for 1 3/8 in (35 mm) to 1 25/32 in (45 mm) door thickness 
– 2 screws of 2 3/4 in (70 mm) for 1 3/4 in (45 mm) to 2 3/16 in (55 mm) door thickness 
– 2 diameter caps of 31/32 in (25 mm) for through bolt
ADVANTAGES AND BENEFITS 
– For a wide range of door thicknesses from 1 3/8 in (35 mm) to 2 1/8 in (55 mm)
– Four different finishes that match and are complementary to the standard selection of barn door sliding systems 
– Secu
re and comfortable grip
DISCLAIMER 
IMPORTANT: Designed for interior wood doors, not suitable for exterior applications. – Please make sure to read the entirety of the installation manual before proceeding with the installation. – Pre-drill for through bolts. – Do not overtighten fasteners. – Wear safety gear such as gloves, safety glasses, safety shoes, and ear protection. – Do not use abrasive cleaners. – Pictures provided for visual reference only: actual product may vary. – All required hardware should be ordered and obtained prior to initiating fabrication or installation work. Please verify that the parts and quantities listed in your order are correct before proceeding to checkout. – Always use instructions provided by the manufacturer, as included with the product. Manufacturer reserves the right to amend, modify, or otherwise supplement any previously issued product and/or technical information, as deemed required from time to time, without prior notice. – The documentation, drawings, and instructions on this page apply to the system described on this page only. Richelieu expressly declines all responsibility for any design or construction that combines this system with systems from this same manufacturer or systems from other manufacturers. – Installation of the product shall be executed by qualified individuals only, always ensuring that each product is securely installed using proper fixation methods, as appropriate for each applicable substratum. We trust that anyone installing these products has the required skills, knowledge, and experience. Richelieu expressly disclaims any liabilities for results obtained through improper use or installation. 
Info
Contact