Richelieu Magnetic Push-to-Pull Handles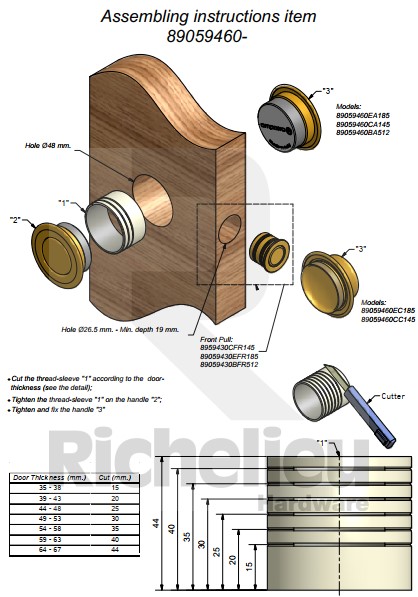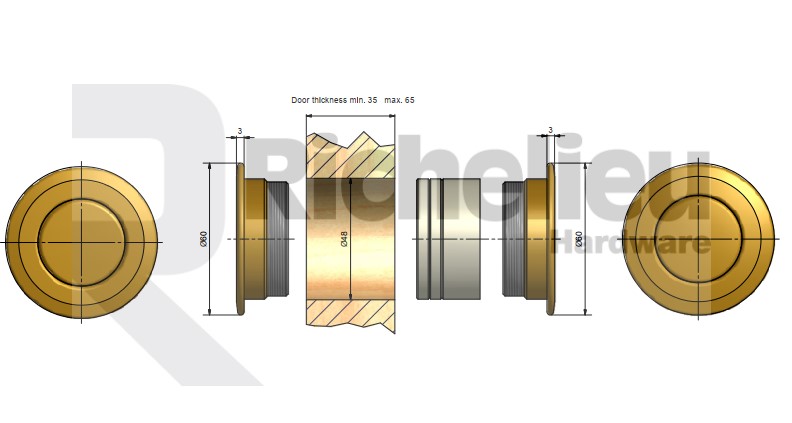 Description
DESCRIPTION
– Handgrip is machined on the inside and outside to provide greater inner curvature and better grip for fingers.
– Finishes are applied using a highly scratch- and UV-resistant coating procedure.
– Assembly is particularly easy and adaptable since the internal part consists of a plastic cylinder which can be easily cut to tailor it to the exact thickness of the door or shutter.
– Innovative mounting system for the magnetic handle can be easily adapted to thickness within a range of 30 to 65 mm, while the grooved inner section can be cut and adapted to the door in which it is to be used.
– Magnetic handles are composed of different parts that interact with one other and therefore cause greater wear and tear. POLARISED NEODYMIUM MAGNETS Neodymium magnets are top quality magnets with high coercive force that never lose their physical properties unlike others that use magnetized iron.

TECHNICAL SPECIFICATIONS
Product number
89059460EA185
Door Type
Wood
Usage
Pocket Door, Sliding Door
Door Thickness
1 3/8 to 2 9/16 in
Manufacturing Material
Brass
Diameter
60 mm
Projection
3 mm
Fixing Technique
Flush
Round

ADVANTAGES AND BENEFITS
– Solid flush handles with "concealed grip" allow full continuity between the surface of the door and the handle.
– Noiseless rotations and movements
– no need for lubricant.
– Neodymium magnet offers greater resistance over time compared to normal magnets.
– The grooved inner section can be cut and adapted to any door thickness ranging from 30 mm to 65 mm.
– The handgrip is machined on both the inside and the ouside to provide greater inner curvature and better grip for the fingers.
IMPORTANT INFORMATION
– Use on doors with standard drilling.
Note:
Picture for visual reference only: actual product may vary from that shown in photo.
Be sure to order hardware before beginning fabrication or installation work.
Always use the instructions inside the packaging provided by the manufacturer, as the manufacturer reserves the right to make technical changes or modify information without prior notice.
All technical drawings and documents contain examples of the assembly of different suppliers' hardware. The customer cannot base any claims on the use of these documents. No responsibility is assumed for design details relating to a particular construction project.
At all times, execution and installation must be undertaken by qualified persons.
Never exceed the maximum weight or the maximum dimensions recommended by the manufacturer.
Always be sure to install the product correctly using the right fasteners for your materials.
Never use any spray lubricant on these products.

Info
Contact