Richelieu Dual Top Track Glass Door. 15 G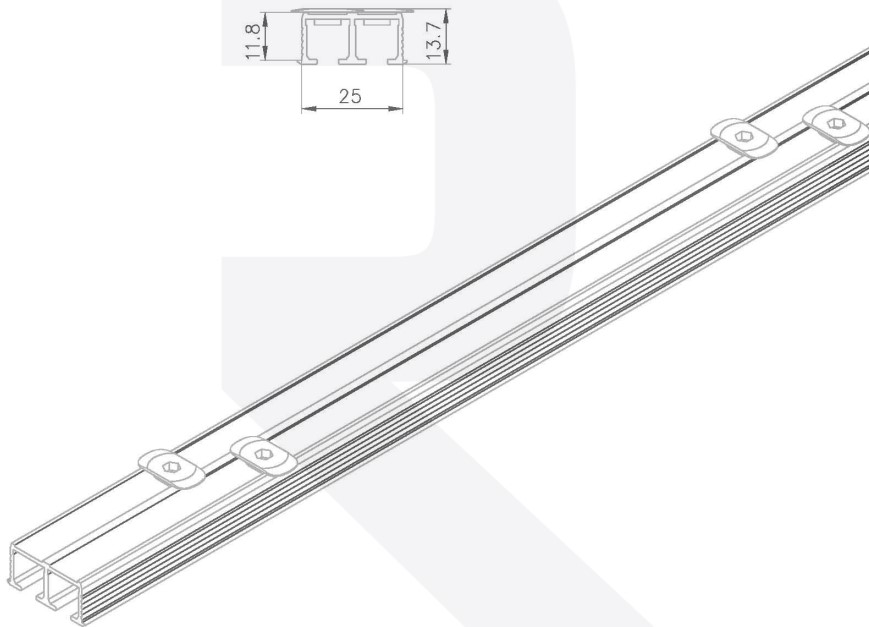 Description
DESCRIPTION
TECHNICAL SPECIFICATIONS
Product number
893033250
Track Type
Double Track
Length
2.5 m
Track Finish
Satin Aluminum
Track Material
Anodized Aluminum
Brand
Hawa
INCLUDED PRODUCT(S)
We strongly recommend that you order the products TUBECART and CAP (two CAPs per TUBECART) to package this product. Please note that if you do not, returns or claims for packaging defects will not be accepted. Feel free to contact us at info@richelieu.com with questions.
IMPORTANT INFORMATION
Pictures provided for visual reference only: actual product may vary.
All required hardware should be ordered and obtained prior before to initiating fabrication or installation work. Please verify that the parts and quantity listed in your order are correct before proceeding to checkout.
Always use instructions provided by the manufacturer, as included with the product. Manufacturer reserves the right to amend, modify or otherwise supplement any previously issued product and/or technical information, as deemed required from time to time, without prior notice.
The documentation, drawings and instructions on this page apply to the system described on this page only. Richelieu expressly declines all responsibility for any design or construction that combines this system with systems from this same manufacturer or systems from other manufacturers.
Installation of the Product shall be executed by qualified individuals only, always ensuring that each product is securely installed using proper fixation methods, as appropriate for each applicable substratum. We trust that anyone installing these products has the required skills, knowledge and experience. Richelieu expressively disclaims any liabilities for results obtained through improper use or installation.
Always remove debris / dust / residues (sawdust and / or aluminum) from the rails using a dry cloth before installing carriages bearing.
Never spray lubricant.

Info
Contact