Richelieu 148BC Pocket Door Frame and Hardware Kit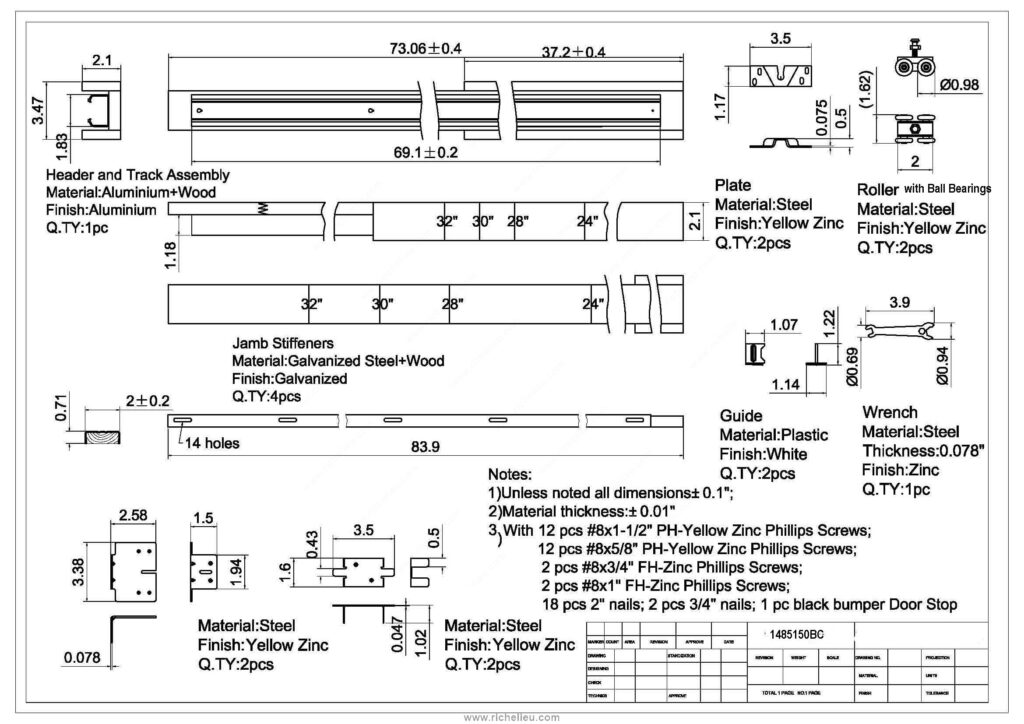 Description
DESCRIPTION
Quick and easy installation
Complete steel system for wood pocket doors. Kit for 2 x 4 construction.
Set for concealed pocket door installation. Width is adjustable to fit the wall interior with various wall thickness and various wall materials and structures.
TECHNICAL SPECIFICATIONS
Door Material
Wood Door
Thickness
1 3/8 to 1 3/4 in
Finish Mill
Finish (M)
Track Material
Anodized Aluminum
Track Finish
Mill Finish
Number of Doors
1
Roller Position
Upper
Track Mounting
Ceiling Mount
Groove Needed for Guiding System
No
Soft-Closing
No
Brand
Onward
ADVANTAGES AND BENEFITS
Can be cut to door dimensions.
INCLUDED PRODUCT(S)
– Two roller carriers with 4 ball bearings and an extruded aluminum track. Steel studs have wood inserts to attach plywood panels.
IMPORTANT INFORMATION
Please note:
Picture provided for visual reference only: actual product may vary.
All required hardware should be ordered and obtained prior to initiating fabrication or installation work.
Always use instructions provided by the manufacturer, as included with the product.
Manufacturer reserves the right to amend, modify or otherwise supplement any previously issued product and/or technical information without prior notice.
All technical drawings and documents on this page present installation examples that use fittings from different manufactures. The client cannot under any circumstances make a claim following use of these documents.
Richelieu expressively disclaims any liabilities for structure details linked to a structure or a project.
Installation of the product shall always be executed by qualified individuals only Ensure that the product is securely installed using proper fixation methods, as appropriate for each applicable substratum.
Never exceed maximum load or dimensions recommended by the manufacturer. Never spray aerosol lubricant on these products.
Always remove debris/dust/residues (sawdust and/or aluminum) from the rails using a dry cloth before installing carriages bearing.
APPLICATION
For bi-parting door application, use 24625005IP kit

Info
Contact