Description
Emtek Aireon Lever Modern Classic Collection
Description
Emtek Aireon Lever Modern Classic Collection
– Can be ordered with any Brass rosette
– Sold as complete set. Includes Latch and Strike Plate
– 28 Degree Latch is available for additional charge
– For pricing information, contact us.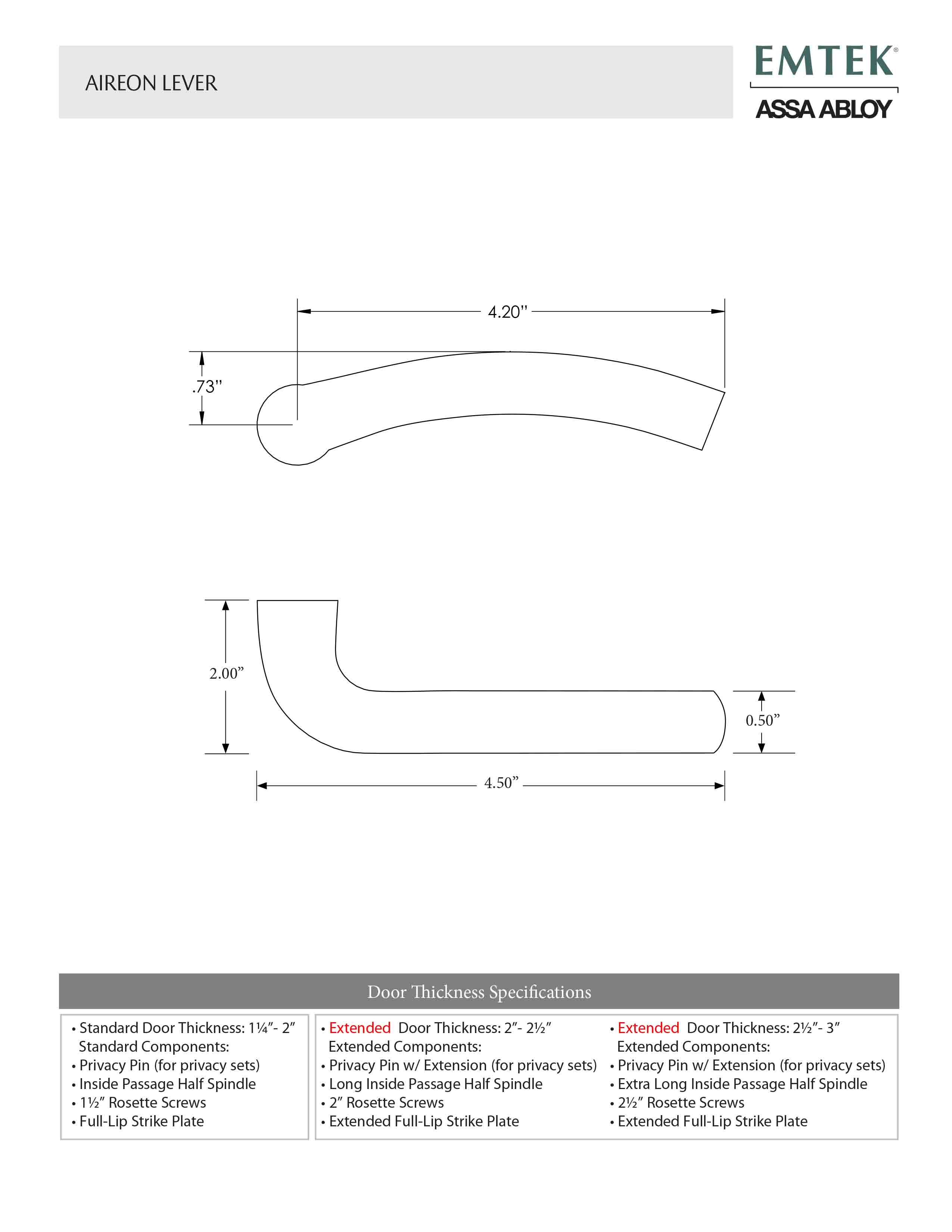 Product Codes
Disk Rosette:
Passage Set – 5109
Privacy Set – 5209
Dummy, Pair – 5059
Modern Rosette:
Passage Set – 5107
Privacy Set – 5207
Dummy, Pair – 5057
Modern Rectangular Rosette:
Passage Set – 5112
Privacy Set – 5212
Dummy, Pair – 5052
Neos Rosette:
Passage Set – 5111
Privacy Set – 5211
Dummy, Pair – 5051
Square Rosette:
Passage Set – 5110
Privacy Set – 5210
Dummy, Pair – 5050
Urban Modern Rosette:
Passage Set – 5316
Privacy Set – 5326
Dummy, Pair – 5306
STRETTO 1.5×5 Rosette**:
Passage Set – 5507
Privacy Set – 5607
Dummy, Pair – 5007
Dummy, Single Sided – 5005
Info
Our Location
Concord, Ontario
We continuously strive to meet the high home builders standards in the Canadian market. So all client feedback have ensured that our hardware have a guaranteed quality, reliability and durability. Allowing us to be a trusted partner in the home industry for the Toronto and GTA regions.
Currently, we carry a large variety of door products ranging from our Builder series, to our Architectural line of lock sets and hardware. All of which are available in a variety of finishes: Polished Brass, Antique Brass, PVD-Lifetime, Pewter, Satin Nickel, Dull Chrome, Oil Rubbed Bronze, Dark Black.
Our new Multi-Point Lock system, which we designed and manufacture ourselves, will not only provide the security and safety that every homeowner expects, but is more affordable, and provides a look
that any homeowner will be proud of.